There are a few practical things that one should consider when preparing and engaging in a lesson.
Pos

i

tion

of the camera
This will vary depending on the instrument you play and/or the experience you want to give and how your students will see you. For example, If I were giving a piano lesson, I would want to see the student's hands as though I was sitting to their side and slightly behind, as usual. When a student plays, we see what they're doing and when you need to talk, they turn around to face you. So, you should get them to frame a shot of themselves from where you would normally sit. And vice versa, what they need to see of you when they look back should just be a framed head and shoulders so they can really gauge your body language and expressions well. Imagine if you wanted to demonstrate something, normally you would ask them to move so you could sit at the piano. Now you don't need to do this, but instead turn back to play the piano. See the diagram below. This setup will both suit the teacher and the student for when they want to perform/demonstrate or chat in-between.
It might be helpful to draw a diagram of how you want your student to setup the laptop/device.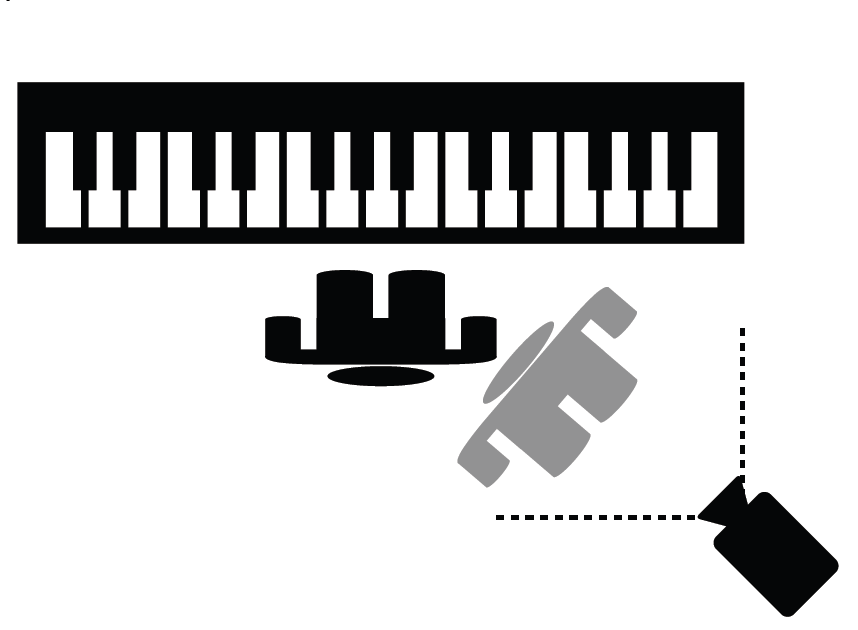 This set up assumes a built-in webcam on a laptop so you can see each other on the screen whilst looking at the camera. Other setups may become more complex so have a think about what will work for you.
Different instruments will suit different setups and you should experiment with different camera angles with your pupils to find the one that works for you. Most instruments will suit a front-on angle, whilst larger instruments will require students and teachers moving forwards and back to fit the whole instrument in. In your Zoom settings make sure you do not tick the 'mirror your display' button on the video tab unless you have specific reason to do so, obviously this will swap everything from right to left which in most learning environments is not ideal.
It is also possible to setup multiple cameras which you can toggle between in your meeting manually. For example, you can plug in a usb webcam to setup on a tripod behind you whilst keeping the laptop in front of you.
Lighting
If you are teaching in the daytime, then glorious daylight even on a cloudy day is the best lighting you can have. Make sure the daylight is behind the camera and facing you otherwise you will be silhouetted. If teaching at night, make sure you have a good lamp lighting you, there are some very affordable options online for between £20-60 e.g.
Photographic diffuser lights on stands or USB light rings - have a good search for what is right for you.
General Practice
Take your time, be clear and allow time for the slight lag. When you count a student in, you will start to get a feel for the latency and you can start to account for it.
If your students need accompaniment in exercises or pieces you should send through mp3 in advance for them to play their end of the call - preferably from a different device to the laptop they are calling from ; due to the audio lag they will not be able to perform with you or music played your end. In the same way, try and get students to count themselves in after indicating a tempo.
If you are using sheet music, make a note of bar numbers so you can quickly get around your pieces between you.
Be aware that slow internet speeds can drastically reduce the quality of your video and audio so try to reduce other devices using the internet whilst you teach.
Safeguarding should still be a top priority when working with children, even if you didn't before, always ensure there is an adult with any child you are working with.
Good luck! The great thing is, you can start a Zoom meeting with no-one else invited, so give it a go, record a few clips to get an idea of what the experience is like for the student and don't be afraid to make some mistakes, it is what we usually say to our students after all!
Ross Power is a Composer, Educator and Session Musician. A graduate of Goldsmiths College, Ross has always enjoyed exploring beyond his comfort zones, developing techniques to help his own music and enable his students. Through his work in TV and film, Ross has had to keep on top of technological developments building a state of the art writing/recording studio at his home in Whitstable. It is also a perfectly suited environment to work with his music students exploring piano, vocals, general musicality and composition through music tech.