Exploring the Violin repertoire: Grades 6–8
Jon Visanji gives his overview on the new violin syllabus repertoire selections at Grades 6—8, choosing pieces suited to demonstrating new techniques and ideas.
Here we find ourselves in the higher grades, for those students looking to further their violin study. What we find is that the repertoire really opens up, both in terms of the playing ability required, and also the diversity of pieces available to choose from – providing 'something for everyone' is what we have strived to achieve with this new syllabus. We felt it was important to select a variety of material that would engage all students in different ways, as no two people are the same, nor will they enjoy or appreciate exactly the same pieces when it comes to learning them.
As performers and teachers, we all know how an individual's musical taste can impact their ability to learn a piece. After all, it's so much easier to motivate yourself to perfect a piece of music you love, than work tirelessly at one you don't. It is our objective to enable candidates to choose violin repertoire that plays to their strengths whilst maintaining the necessary technical and musical demands – resulting in an assessment process that is more comfortable, enjoyable and ultimately more rewarding and valuable to the performer. I really believe that we have achieved this with the new syllabus.
From Grade 6 upwards, repertoire is divided into two groups: Group A features more technical pieces, whereas Group B contains more lyrical, expressive works. Below I will mention in more detail some choices of new repertoire for this higher end of the syllabus, and give a brief outline of what is involved with each selection.
Grade 6
Trinity's graded repertoire book contains an enticing selection of pieces by a wide range of composers including Nölck, Tessarini, Boulanger, Elgar and Kreisler. These are joined by classics on the alternative list by composers such as Haydn, Schubert, Telemann and Vivaldi.
Nölck's Hungarian Dance op. 196 no. 5 is a really fun addition to the syllabus in group A. It encapsulates 'all things violin', with lots of different technical elements involved. The inclusion of these new challenges, such as double stops and more advanced bow strokes, gives the piece a similar level of technical difficulty as an étude. It also features a slower contrasting lyrical section. However, whilst being just as effective as a study, its demands are disguised by what is a really fun piece of music – only now I've blown its cover!

Watch a

n

extract of

Hungarian Dance

performed

by Jon

Visanji

and Aleksander

Szram
Turning to group B, we see an enchanting Nocturne by Lili Boulanger. Her talent was apparently first discovered by Gabriel Fauré, and she was the first woman to win the prestigious 'Prix de Rome' prize for composition. Nocturne is a beautifully lyrical piece with long sweeping phrases and some tricky chromatic runs later on. This piece is atmospheric and requires a calm stillness from the performer; it goes without saying, a nice tone is most definitely helpful too.

Watch a performance extract of

Nocturne

by Jon

Visanji

and Aleksander

Szram
Fritz Kreisler is one of the classic 'gems' of the violin world and two of his pieces are included in group B at Grade 6: Liebesleid on the alternative list, and Syncopation in the Trinity book. Fritz Kreisler remains a firm favourite amongst violinists today, both as an instrumentalist and as a composer and arranger for the instrument.
Liebesleid known also as 'Love's Sorrow' is the more sombre of the two selected, but its waltz feel really captures Kreisler's classic style and charm. This piece requires the performer to demonstrate a good solid sound and vibrato, rather than the display of show-stopping technique typically found at the more advanced level of the composer's repertoire.
Syncopation is a slightly more upbeat piece, and is full of violinistic traits for the performer to get their teeth into at this level. Pretty little ornaments run throughout the piece, enhancing the rhythmic feel throughout the syncopated sections (the piece is aptly named). This piece is full of witty, coquettish charm that engages the performer and listener alike.

Watch a performance extract of

Syncopation

by Jon

Visanji

and Aleksander

Szram
Both of these pieces by the same composer provide contrast in choice, whilst being a great introduction to these important works for violin.
Other personal favourites from this grade, on the alternative list are: Vivaldi —Allemanda (2nd movt from Sonata in B minor, op. 5 no. 4, RV 35), Schubert — Menuetto & Trio (3rd movt from Sonatina in A minor, op. 137 no. 2, DV 385), Dvořák — Slavonic Dance no. 10, op. 72 no. 2 (included in Book 3 of Trinity's Raise the Bar series, which usefully contains a selection of pieces featured at Grades 6—8) and Perlman — Horah-Hatikvah (from Israeli Concerto), which many of you will remember from the previous syllabus.
Grade 7
A characterful piece in group A of Trinity's Grade 7 book is Samuel Coleridge-Taylor's Valse Mauresque. Like the Nölck at Grade 6, this falls into the category of having 'a bit of everything'. It's an upbeat, spiky piece, that highlights many of the techniques required for this level, whilst still being engaging as a good piece of music for the violin. Being a waltz, it's lively and energetic in nature and style, but also has lyrical passages to contrast with the other sections. The inclusion of pizzicato triple stop chords really adds to the variety. Fun!

Watch an extract of Valse mauresque performed by Jon Visanji and Aleksander Szram
Also featured in the video, and from the alternative list

at

g

roup A

, another one to 'get your teeth into' is

Intrada

by

Scottish composer Alfred

Moffat

. This piece is a good alternative to the above, and is perhaps a little trickier in places, depending on your perspective (we really do try to cater for all tastes and styles of player

).
The violinist makes a grand entrance (the Intrada) and embarks on a violinistic journey, laden with triple/quadruple stop chords and string crossings, not to mention almost every bow stroke available, from close-controlled staccato, played deep into the string, to ricochet bowing. This is essentially a Theme & Variations style piece played in a neo-baroque style. It also has an exciting climax. It's a great piece for the candidate to get to work on; it's not without its challenges, which is why it finds itself at this level on the syllabus, but it's something people always love playing. My 12-year-old self still remembers it fondly, I may give it a revisit!
Watch a performance extract of

Intrada

by Jon

Visanji

and Aleks

Szram
Jules Massenet's Méditation from Thaïs is rightfully one of the most well-known and well-loved pieces from the violin repertoire as a whole, and is hence something of a mainstay on the syllabus in group B. Equally as beautiful a piece in its own right, but somewhat lesser known, is a piece with the same title – Méditation by Russian composer Alexander Glazunov. His violin concerto is notoriously fiendishly difficult in parts (I know, because I've performed it with orchestra before), tricky and undeniably gorgeous, what a piece! Glazunov writes with consistently luscious harmonies and textures throughout all of his works, and however difficult or not, this is always the first thing you notice when you embark on any of his works. Beautiful music with lush harmonies is something every musician always enjoys playing and the Glazunov Méditation provides exactly that. It is a meditation, for both performer and listener – a slow lyrical piece with gorgeously rich harmonies coming from the piano part, and the violin adding the sweetest of peaceful melodies. It transports the performer and hopefully the listener also, to a place of extreme calm and tranquility. It soars high up the E string in parts, giving a sense of freedom and wide open space. Playing this piece well requires a good solid tone and left hand technique; the performer also needs to have developed an adeptness for shifting, sometimes cleanly and sometimes with an 'artistic slide', because in the right places, we all love those!

Other personal favourites from the Grade 7 alternative list are: Fauré – Andante op. 75, Rachmaninoff – Rhapsody on a Theme of Paganini, 18th variation (better known as the famous piece for piano) and Raff – Cavatina.
Grade 8
The Grade 8 list naturally has some of the most challenging repertoire for violin, that precedes ATCL diploma level and beyond. It also means the variety of what's available to choose from is substantially larger.
There's everything from Bach to contemporary works, covering many different styles. Of the three pieces by Bach included on group A, the Trinity book contains the Allegro (4th movement from Sonata no. 4). This is classic Bach, with long flowing phrases, string crossings, and as always, the performer needs to pay real attention to detail and play the music with some real precision. However, we've done something different this time around, and now provide the facility to download for free a completely 'naked' urtext version of the music. This contains no fingerings, bowing or other editorial markings and so gives the candidate an opportunity to think for themselves – to put their own stamp onto the piece. What a great learning tool! Of course, the version in the Trinity book is fully edited and also comes with piano accompaniment, as well as the exemplar recording by Ofer Falk and Irina Lyakhovskaya.
Below, you can see extracts from both versions. Either way, it's great to see three items by one of the most important composers from all musical history included at Grade 8.
Unmarked version (available in full here):

Edited version (available to purchase from the Trinity shop):

Watch a performance extract of

Allegro

by Jon

Visanji

and Aleksander

Szram

Watch a performance extract of

All

egro by

Ofer Falk and Irina

Lyakhovskaya

, in Trinity's Making of the Audio video
An alternative list piece on group A is the Rondo from Beethoven's Sonata no. 1 in D Major for violin and piano – with demands made equally on both parts! This fun and lively piece is classic Beethoven – big and bold, with hugely contrasting dynamics, and lots of 'subito' moments. It's really fun to have so much musical dialogue between both instruments. Like most of the Beethoven sonatas, this is a 'must-have' in any budding violinist's repertoire.
Watch a performance extract of Rondo by Jon

Visanji

and Aleksander

Szram
Turning to Group B, from the Trinity book, we have the first movement from William Alwyn's Sonatina for Violin & Piano. Alwyn was primarily a film score composer, and this really shows in this particular work. If you like film music (think John Williams Schindler's List style) or similar, then this piece is definitely for you. It's full of long sweeping phrases and lyrical melodies. A fair amount of it is in the upper register, high up on the E string. This makes it important for the candidate to display a good upper register sound and tone. Having that ability, or not, will make or break the performance of a piece like this. It's for that reason that it finds itself at this level in the syllabus.

Watch a performance

extract of Sonatina by Jon

Visanji

and Aleksander

Szram
A well-known alternative to the above is Remembrances from Schindler's List, by John Williams. John Williams doesn't need much of an introduction; his works are recognised by people all over the world, and his career spans over six decades.
The Theme from Schindler's List is a classic on the repertoire, and another mainstay, but this piece from the same film offers up something a little different, perhaps for those who don't wish to 'play what everybody always plays' and it's on the Grade 8 syllabus, as there's a few more demands made on the performer than its better known 'sister' piece. Remembrances is instantly recognisable if you've seen the film and is a recurring theme throughout, with lots of high register sweeping melodies, ornamented by little left hand fiorituras, or 'pirouettes' of chromatic beauty for the player to wrap their left hand around. It really is a lovely piece of music, heartbreakingly emotional and touching. There's an unaccompanied cadenza section too, where the soloist is given a little ad-lib 'free licence' to really express themselves. It even pays homage to the original Theme with a little 'tip of the hat' to it near the end of the piece. Bring your best vibrato and some smooth solid consistent toned bowing, and this piece will become one of your favourites for a long time to come after your exam is done.
Other favourites on the alternative Grade 8 list: Kodály — Adagio, Wieniawski —Romanze from 2nd Violin Concerto, Mozart — 1st movement from Sonata in C, Bach —Giga from Partita in D minor.
As you can see even when merely glancing at this new syllabus, there really is a huge range of styles and composers, something for everyone. It's important that the process of examinations is something which makes the candidate push themselves in learning new techniques and ideas in order to improve their own personal performance levels, but it's also important I think, to keep the process fun and engaging for the candidate. Providing a wide variety of choices, and different options in every area possible, really enables a candidate to make the exam something more personal and relevant to them. I've often said to my students that the world is made up of all different types of people: embrace them all and be kind. The world would be so dull if we were all exactly the same!
We hope you remember the most important thing when learning from the new syllabus, and that's to have fun playing the violin!
About the author —

Jon

Visanji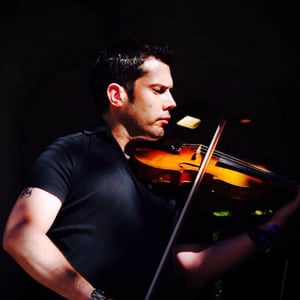 Jon Visanji studied at the Royal Northern College of Music in Manchester and is a versatile freelance violinist, equally at home in an orchestra pit for a show, to performing on live national television. He has performed with some of the UK's top symphony and pit orchestras including BBC Philharmonic, Bournemouth Symphony and English National Ballet, and also in the 'pop' and session world, performing and recording with a whole range of popular music artists, including Jennifer Hudson, Tom Walker, Richard Hawley, One Direction and Girls Aloud. He has also recorded soundtracks and appeared in some film and TV series, most recently in the film The Death of Stalin and the latest series of The Crown on Netflix.